---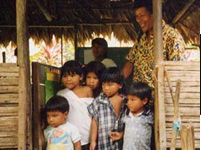 Talamanca, southeastern Costa Rica, is the land of Bribrís, an ancient Costa Rican tribe formed by generous and hard-working people. This zone is visited by thousands of tourists because of its natural beauty and unforgettable landscapes. In fact, it is one of the most beautiful Costa Rica tourist attractions, especially the Chirripó National Park area.
Some years ago an enthusiastic group of Bribrí women formed an indigenous tourist and agriculture association to work and to generate incomes. The project was named Amuprowa. It has been serving tourists, students and groups from all over the world which develop different activities in Costa Rica, including Talamanca zone.
These brave women continue developing new projects and recently they opened Kabata U Indigenous Eco-lodge to let tourists and volunteer groups to share in the life, and traditions of the indigenous community.
The Kabata U Indigenous Eco-lodge already received its first guests, and at the present time, some Costa Rica travel agencies from the Caribbean coast are offering options for Costa Rica ecology tours which can include a visit to the Bribrí new Eco-Lodge for tourist who want to experience the traditional, indigenous life style.
Natural beauty, local species of mammals and birds, and the possibility to know more about Bribrís life are the main reasons for tourist, to visit the Kabata U Eco-Lodge in the Talamancan Bribrí Indigenous Reserve, and to consider it as one of the best Costa Ricahotels in its kind.
For now Kabata U offers three rooms with space for six visitors each. Some basic services and the kindness of Bribrís make the stay in a comfortable experience.
Kabata U is located 30 minutes from the southern Caribbean beach towns of Puerto Viejo and Cahuita, which also are exotic destinations for local and foreign visitors. Rates of Kabata U include three full meals and the packages offered include some different activities to enjoy nature and the Bribrís traditional life.
---
---
Leave a Comment