---
October 25, 2012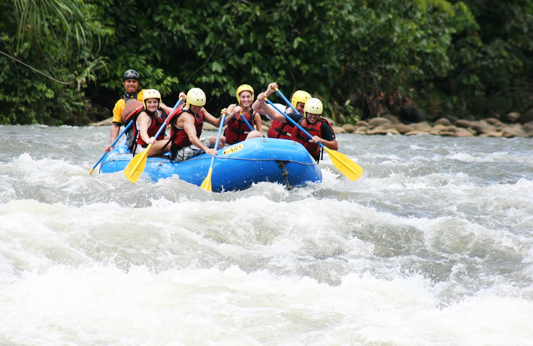 Travel Excellence gives you a list of some rivers we have in the country for those who love adventure and extreme sports. Costa Rica offers rafting tours all year round on several rivers in the country and we can help you to book them on your next vacations trip.
If you do not have experience in white water rafting and you want to try it, do not worry, Costa Rica has rivers of all levels to do this activity, from class 1 up to class 5 and we can assist you to book the right tour according to your experience.
Some of the rivers we suggest to practice the exciting white water rafting tours are:
Sarapiqui River: It has a length of 85 kms, and the water level is good for rafting all year because it collects waters from other rivers like Toro River. Without a doubt the Sarapiqui River offers landscapes of singular beauty. This river is suitable for beginners.
Reventazon River: This is a well-known river and very popular for whitewater rafters,Reventazon River offers rapids class 3 and 4 and offers many emotions, even for an experienced person, but the river is gentle enough for anyone to paddle safely. The beginning is easy, providing the opportunity of gaining confidence, then, the water level increases until you pass through some exciting and funny rapids like "Hueco El Gordo" and "Santo".
Pacuare River: This River rises from the highlands of Talamanca and flows down to the Atlantic Ocean. Considered one of the top rivers for white water rafting in the worldPacuare River offers an unforgettable experience, not only for its rapids, but the exuberant flora and fauna and landscapes you will see during the trip. The rapids on this river are class 3 and 4 so; we suggest it for people with previous experience in white water rafting.
Corobici River: The Corobici River is for those who prefer a quiet ride; this trip is ideal for relaxing; taking pictures and not worry about paddling strong. Enjoy the wonderful landscape around and wildlife is seen while cruising along the river, perfect activity for nature lovers.
Leave a Comment