---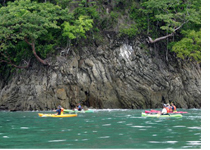 The Marino Ballena National Park is located 8 miles south from Dominical Beach, in the Central Pacific of Puntarenas, and this is where my Costa Rica traveltakes place, so keep reading and let me tell you about this beautiful area of the country.
This National Park was created in 1990 to protect the species of whales coming to nest near the coast between December and April. It covers 110 hectares of land and 5,400 hectares of ocean. It is a quiet, not very crowded place of great natural beauty, close to other charming beaches like Uvita, Ballena, Ventanas and Tortuga. The park is perfect for eco tours, and being part of the Costa Ballena area, family tours should include it due to their natural state, making it perfect for relaxing or sunbathing at the beach.
The beaches in the National Park are impressive, with pristine, clear waters and lush green rain forests in the surroundings. There are mangroves, the largest coral reef in the Central American Pacific, several species of whales, dolphins and turtles that come to nest between May and November.
The entry fee to the park is US $7, and there is a camping zone although no services can be found in the park, so bear in mind that you have to bring everything that you need in your stay. There's a rangers station 4.5 miles south of Uvita Beach. If you look for Costa Rica hotels in the Costa Ballena area, you will find anything cheap Costa Rica hotels and cabins, to Costa Rica luxury resorts with a view to the Ocean.
To get to Marino Ballena National Park, drive over the Costanera Highway from San Jose, pass the Quepos/Manuel Antonio exit for one hour to the south, pass Dominical, and continue driving for 8 miles. The weather in Marino Ballena is warm and humid during all year, with heavy rains in the rainy season (May to mid-December).
---
---
Leave a Comment