---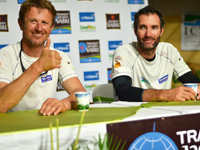 Limón, the finish line of the Transat, has received the first sailboat. Part of Costa Rica population had the opportunity to enjoy the arrival of the Virbac Paprec 3, sailed by Jean-Pierre Dick and Jérémie Beyou, who crossed the finish line of Puerto Limón at 8h 15m 54s UTC/GMT, or 2h 15m 54s local time on the Costa Rica's province.
Dick is now a three times winner of the Transat. His first victory was in 2003 with Nicolas Abiven, his second victory in 2005 along with Loic Peyron and off course today, the morning of Friday 18th, accompanied by Beyou, who won his fist major "IMOCA Open 60 race" when he raced with Dick for the first time in an offshore race.
These sailors took 15days 18hours 15mins 54secs to reach Puerto Limón, a course of 4730 miles, breaking the 2009 winner's record by 1 hour and 7 minutes.
"It is really cool to win with such a lead. A third victory in the Transat Jacques Vabre brings a lot of good feelings because it is exceptional. It's a bit of a reward, a success to reward from such a lot of work. All this work, we will be celebrating tonight!" said Jean-Pierre about his third win.
According to the sailors, it was an intense, tough race; however, they managed to carry the day out. Two days later, they finally could sleep.
"The first week was really hard. Our boats had become like war machines" said Jean-pierre about the intensity of the race.
"We were on it constantly. Last night was a bit stressful. It was a bit random and difficult in the squalls; a sail went in the water. It was tough" added Jérémie about the intensity of the race.
The winners, full of Costa Rica culture, were greeted by the Caribbean bands in the early hours of the morning. Committed to applauding their effort and braveness as well as to share and celebrate the sailors' joy.
People at Puerto Limón are still waiting for the next sailboats to arrive; the next sailboat expected is the Hugo Boss, which is right now 37.5 miles away.
Be part of this exciting experience. This is a perfect excuse to know Costa Rica; this is a perfect last minute travel deal to Costa Rica.
---
---
Leave a Comment