---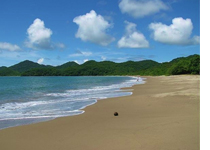 When you travel across the North Pacific Coast in Guanacaste, you will find many interesting places spread all over this wonderful province. Everything from Costa Rica volcanoes in the central divide, the Arenal lake, the cloud forest in Monteverde, very close to Guanacaste, to amazing beaches facing the Pacific Ocean, and Wildlife Reserves and National Parks. There are many Costa Rica tourist attractions in Guanacaste, so I recommend putting it on your list of things to do in Costa Rica.
If you are planning a Costa Rica eco tour, visit the Junquillal Bay Wildlife Refuge. It is very close to Liberia, Guanacaste's main city. The trip from there is around 20 miles long using the Interamerican Highway that takes you to the Santa Rosa National Park, which is neighbor to Junquillal Bay.
Junquillal Bay is a quiet place, a protected area of dry forest typical of Guanacaste and the coast mangroves along the shoreline. The weather in this part of Guanacaste is great during most of the year, since there isn't a rainy season as in the rest of the country. You will have sporadic showers during certain months, but the climate is dry for the most part of the year.
The Refuge is a great location for Costa Rica birding tours, due to the variety of species of birds that live in the coast, like brown pelicans, egrets, eagles and parrots, among others. Several species of turtles also come to the park to lay off their eggs, like the leather back turtle, green turtles and others, and you will also see many reptiles and mammals.
As for activities that you can practice, there's snorkeling, swimming, boat rides, hiking through the trails, picnic areas and camping. There are services such as telephone, rest rooms and others, and you can relax and spot the Central Divide volcanoes from the beautiful white-sanded beach.
---
---
Leave a Comment