---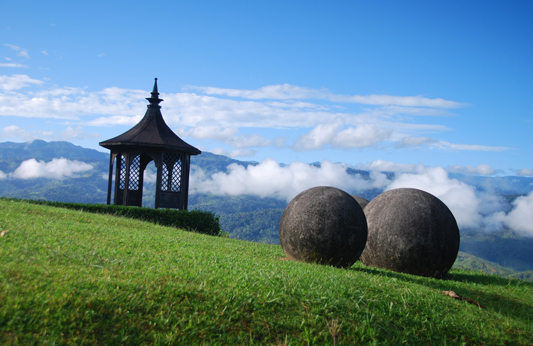 This time we want to suggest a beautiful hotel in one of the quietest areas of the country, additionally, the property has been one of the winners of the Hospitality World Saving Award by granted by Traveler Magazine.
Hacienda Tayutic is located in Turrialba Valley, among green meadows and a blue sky. Its design was based on rural Costa Rican colonial building, different from the typical boutique hotel or beach resort in the country. This private and small hotel has five rooms with services like: telephone, wireless Internet connection, safe box, gourmet Costa Rican Cuisine Restaurant, laundry service, swimming pool, massage service, souvenir store where you will find the products harvested from Hacienda Tayutic's plantations (coffee, macadamia nuts, etc.). Among its attractions in this cozy hotel we found: exuberant gardens, a lovely colonial wooden house, a beautiful XIX century church and nearby, an orchid greenhouse and a beautiful Gazebo with amazing panoramic landscapes of the valley.
Let's talk about Turrialba: This region is located 65 kilometers east from San José, the capital city, the stunning and rich region of Turrialba is surrounded by the pure waters of Reventazon River, turning these lands into an agricultural area a hundred years ago. On a clear day, from the summit of Turrialba volcano you can see the Irazu, Poas and Barva volcanoes in the distance. In Turrialba you can find rarely visited attractions such as Turrialba Volcano National Park, home of the active Turrialba Volcano, which is active right now and its major eruption occurred in 1866.The rains throughout the year create a green collage of primary forests, reforested areas, and extensive plantations of coffee, macadamia and sugar cane, demonstrating a perfect balance between agricultural development and nature conservation. Another attraction very important to mention which is close to Turrialba is Guayabo National Monument, this is a great place to explore and learn about the important legacy of our indigenous communities.
We cannot forget to mention variety of vacations tour packages available in the area, such as kayaking, white water rafting, bird watching and botanical gardens that makes Turrialba one of places to visit if you want to be off the beaten track.
---
---
Leave a Comment