---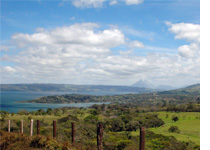 A hundred of employees from different German travel agents are visiting Costa Rica this week. They come to the country due to the traditional Megafam which is sponsored each year by the prestigious German tour operator Weltreisen Meiers. The event is aimed to let the travel agents to know the most beautiful Costa Rica attractions, the comforts of thetravel packages to Costa Rica and other benefits, so they can promote the destination in their own country.
Once a year for about ten days, these agents have the opportunity to know the most distinctive places of a different destination in Latin America and the Caribbean to exchange ideas with suppliers and tourism industry executives. This year the company chose Costa Rica to enjoy the tropical beaches, the best ecology tours, and many other things that the country offers to foreign visitors.
During the trip, they know more about topics such as the most attractive activities in Costa Rica, the best adventure tours in Costa Rica, the benefits of the Costa Rica travel conditions, or simply "what to do in Costa Rica", among other important touristic items.
The country's natural beauty and a wide variety of tours in Costa Rica for travelers make it one of the most visited countries in Central America by German tourists, and visitors from Austria and Switzerland.
Seven groups of travel agents from Weltreisen Meiers arrived to the country as a part of this special familiarization trip. They were warmly welcomed by the team of the incoming agency Costa Rica For All, at the Juan Santamaria, the most important of the Costa Rica airports.
After staying a couple of hours at the Country Inn, one of the comfortable hotels in San José, some groups undertook a brief tour of the city.
Last Wednesday, a group of agents moved to Nicaragua, where they expected an exciting tour which also eventually will connect to Costa Rica, and the rest of the event participants started their journey in this amazing country visiting beautiful and unforgettable places such as Tortuguero National Park, Arenal Volcano and Guanacaste to learn more about the attractions of Costa Rica to promote this exciting destination in Germany.
---
---
Leave a Comment