---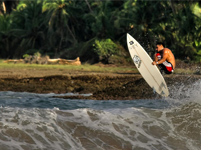 I had a sweet deal from a travel company, and now I'm having a costa rica travel vacations trying to know all the beaches around this beautiful country. I'm a 30 years old from United States (Gringo as they call me here) who loves to surf, travel, and write; that's why I will be telling you lot stories about the "ticoland". Here's the first one…
The thing is that I have a friend, who was in Costa Rica like five years ago, amateur surfer who looked to get better with his skills by coming into a warm water waves. He said to me: "Look Peter, if you ever go to Costa Rica, you need to go to the Caribbean and try to find a wave called Salsa Brava. It's the best; aggressive lanes, and beautiful but tricky moves; just in one wave".
My friend's name is Vince, he is more as the guy who loves costa rica vacation house rental deals; I don't. I'm much more as a free spirit that actually hates all inclusive costa rica resorts, but loves all more things involve with nature and jungle tours.
When I landed at Costa Rica, I never hesitate to visit the Caribbean; I actually made it my first landing spot as I try to visit all the beaches down here.
My first beach here was at Limon, a small but beautiful beach named Playa Bonita. Most people go there to go into the water, get some sun and tanned, or just to have a beer. But if you really look for a point break, Playa Bonita has a nice spot near the corals. It could be a little dangerous, but it's amazing to surf at the same time.
My impression of this place was that it should be just as it is right now, because it seems as the local are trying to build businesses around the beach, and it's killing its mystique.
Playa Bonita was my first sight of Costa Rica, and I liked what I saw, but according to my friend Vince there are plenty of landscapers yet to see. I just spent one day at Limon downtown, because my travel itinerary keeps saying I should move south to look for Salsa Brava… I know what you are thinking, if I'm a free spirit, why should I have an itinerary, well I'm organized too.
---
---
Leave a Comment