---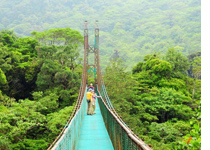 There are so many places to visit while staying at Monteverde in the middle of our Costa Rica travel, that we stayed a bit longer than planned. We visited the Monteverde Natural Reserve, and it is an impressive place, which I described in my previous journal entry. The Costa Rica cloud forest is breath taking, with its surreal atmosphere due to the mist and clouds, the suspended bridges and the amazing views. We ended the tour and felt very happy, looking forward to more adventure in Monteverde, which we'll find for sure.
The town of Monteverde is located at the slopes of the cloud forest, founded in the 1950's by Quakers coming from America, and still keeps its rural roots with a touch of modernity. You will find a bank, an atm, drug store, hospital, gas station, postal office, supermarkets, restaurants, clubs and internet cafes.
People are nice and warm, and there are cheap hotels and Costa Rica luxury hotels and cabins where you can stay. In town, you can visit several places, like a butterfly garden, handcraft products market and the Hummingbird Gallery for bird watching. If you want to taste the food, try the local-produced cheese, one of the best that I have tasted in Costa Rica.
Near Monteverde, there's another town called Santa Elena. It is smaller than Monteverde, with its own cloud forest, also smaller than the Monteverde Reserve. This reserve is also one of the most visited places in Costa Rica, and due to the closeness to Monteverde, we also decided to go to Santa Elena. There's not so much to see in the town, although we found luxury hotels, restaurants, cheaper cabins and many services.
From Santa Elena, different tours are organized, such as walks to both reserves, the popular skywalk and canopy. The reserve is more rustic than Monteverde, and is located at higher elevation. The wildlife is equally rich, and since the reserve trails are less crowded than Monteverde's, it's possible to better appreciate the forest. Weather is also similar, cold and wet in the Reserve, so bring warm clothes.
Occasionally during the year there are night hiking tours, so if you are interested in one, ask your Costa Rica travel agency for information. After Santa Elena, we went back to Monteverde and are ready to continue our Costa Rica adventure trip, feeling satisfied by all the things that this area has to offer to the tourist.
Here you can find a list of Hotels & Accommodations in Monteverde recommended by Travel Excellence:
El Establo
El Sapo Dorado
Fonda Vela
Trapp Family Lodge
Heliconia
Hidden Canopy Tree Houses
Monteverde Cloud Forest Lodge
Montaña Monteverde
Poco a Poco
---
---
Leave a Comment