---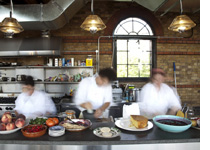 The seminar "The Four Legs of the Table", will take place in the country on next January 17, 2012. This event will provide an excellent opportunity for owners and managers of Costa Rica hotels, and the gastronomic industry, to learn and reinforce important concepts about their business activity, and future investments on the market.
The event will be one of the most important Costa Rica seminars aimed to these sectors on next year, and its main objective will be "To provide the best opportunity to acquire or extend knowledge about the main tools to be used to establish a restaurant".
In addition, organizers have other important goals for this interesting meeting of the gastronomic sector to be held at the Corobicí, one of the most popular hotels in San Jose, which, together with other important hotels in the Capital city host many of the main Costa Rica conferences, meetings, and seminars each year.
Among the benefits and objectives mentioned, the event will advices on concepts of risks and advantages related to the establishment of a new restaurant, the steps to be a successful businessman or businesswoman, knowing tools to improve profitability, and how to improve service customer, among other subjects of big importance to attract especially foreign visitors who enjoy their travel vacations in the country at any time.
The hotel and restaurant sectors are essentials for local tourism industry. The wide variety of best costa rica travel packages, offered by travel agencies, always include different, attractive gastronomic options. That is the main reason for the country to have high quality restaurant services both within hotels and all places of tourist attraction.
The speaker at this specialized Costa Rica congress will be Sergio Ariel Sitkowski, president of Grupo Sitko, graduated in Sciences Communication from Belgrade University, Master in Leadership and Negotiation, International Chef, and Consultant, Adviser for major hotel and restaurants chains.
---
---
Leave a Comment