---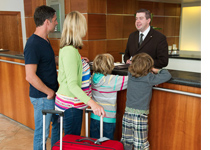 Most of Costa Rica hotels managers expect an increasing activity for this high season. The 87.5% of the hotels industry trust in a bigger demand of its services from 15 to December 31, according to a poll made by the National Chamber of Tourism (CANATUR) to 92 companies from the hotel sector, car rental business, and tour operators.
This is a good time for visitors who enjoy family travels, and travel vacations during the New Year festivities in the country. Thousands of travelers will take advantages of travel agencies discounts on package trips to Costa Rica, and most favorable flights deals for these weeks.
Carlos Ramos, President of Canatur, explained that an increase in the arrival of non-resident tourists to the country, the end of the year, and the Christmas break for many Costa Ricans are factors that positively affect the activity of businesses and tourist destinations such as restaurants, hotels, National Parks, beaches, and Costa Rica tour companies, among others, which expect an increasing demand of its services and products by this Time.
The country is a preferred destination for thousands of local and foreign travelers who look for quiet mountains, tropical beaches and comfortable hotels and resorts to rest and to have a great vacation time. That is the main reason to be sure about positive expectations.
According to CANATUR research the hotel sector has the higher expectation for season´s beginning with a favorable opinion from 87.5% of those polled. The remaining 12.5% thinks that the activity will be regular. Any unfavourable opinion was reported from this tourism sector.
Another important area of Costa Rica tourism is the car rentals industry, where opinions were more conservatives, so the 84.62 % has positive expectations, the 7.69% think the operation will be normal, and the same percentage answered negatively.
The Costa Rica tour operators keep positive expectations; however, only the 34.6% have a favorable opinion, and the same percentage considered the operation will be normal. The remaining 30.8% think that season´s beginning won´t bring an important demand of its services.
---
---
Leave a Comment