---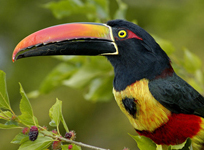 Next July 25th will be celebrate the Wildlife national day in Costa Rica, which without a doubt is one of the best places to get addicted to the natural life and real meaning of the planet earth.
Costa Rica travel deals are tremendous for those who love getting involved with the beautiful and equally exciting rain forest, lovely beaches and spectacular volcanoes but especially for those who have lived their lives inside concrete walls and desperately want to enjoy the refreshing feeling of the pure air and the amazing landscapes this country has to offer.
There are not many places in the world where you can feel so liberate than Costa Rica. Getting from a gorgeous beach to a stunning volcano in a one hour is a possibility this nation has and it's the envy of other places in the planet.
Costa Rica is amount the 20 countries with more animals species and wild in the world. It's known that at least 4% of the global species are in this territory, mostly because of the geographical position and the climate Costa Rica is surrounded by.
The most amazing thing about Costa Rica is that is just about the same size as the state of West Virginia, and even so, this small territory is capable to have a unique combination of nature that takes everyone's breath away.
You can't imagine everything this country has to offer. A Costa Rica travel vacation is a unique experience no one needs to tell you about; you have live. Don't expect anyone, not even me; to tell you how good the nature-peace combination is in Costa Rica.
Obviously the human nature has been messing up with the diversity of the animals in the wild with the introduction of exotic species, combined with the unleashed hunting and people who only want to do damage. But the impact of the a good natural environment is key for this country that's why several government institutions are working against it and celebrating the Wildlife national day is just one step towards to it.
---
---
Leave a Comment