---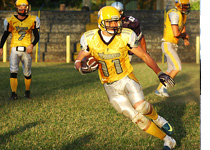 After overcoming strong obstacles Football has become in one of the activities in Costa Rica that has more participation from both Costa Ricans and foreigners, especially Americans who decided one day to get travel deals to Costa Rica to visit the country but, later decided to come back to stay for a long time.
Today, many of them, including some students, engineers, doctors and workers, among others, are training hard to fight for the title in the next National Football Championship, which starts in next February, according to Paolo Vincenzi, President of the Football Federation of Costa Rica.
Once again, the Costa Rican League will have six teams, as the last year. The squads are Bulls, Raptors, Rhynos, Sharks, Dragons and Bulldogs, the present champion.
Promoters of Football in the country try to overcome serious barriers, from the beginnings, not only in terms of infrastructure and sponsorship, but also and more important, culturally. Five years ago Football was just one more of many fun things to do in Costa Rica. Today Football appears as a serious option when people ask for what to see in Costa Rica.
Jose Rafael Lopez, a native of Miami and Head Coach of the Bulldogs, believes that the hardest part has been "trying to overcome the fear of parents, about possible injuries that may occur to their children practicing Football".
Progress has been constant thanks to cooperation of a lot of foreigners and Ticos and the effort of players as Reinhart Weiss, the best player of the Costa Rican league, and the star of Bulldogs, or the young promise Eloy Chacon, an ex-soccer player who is now the best Kicker of the tournament.
However, despite the obstacles, López agree with his colleagues that development of Football is encouraging in Costa Rica. With only four official seasons, the Bulldogs and Rhynos have made good international performances against teams of Central America, from countries where this sport has about 10 years of development.
---
---
Leave a Comment