---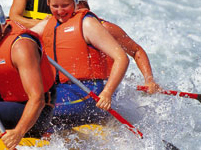 The team "Banca Mujer" promised they will leave the Costa Rica name really high when the World Rafting Championship 2011 finishes, well; they did as the group managed to win the second place of the slalom category disputed in Turrialba, one of the unique places and one of the best costa rica attractions.
The team from Czech Republic won the competition yesterday over the furious cold waters of the Pacuare River.
In the slalom category, you have to pass your boat for 14 "doors", the distance from one to other is 800 meters; so if you are a competitor you need to explore the whole river and study your best technique. This is a two rounds competition and whoever finishes faster, wins the tournament.
Doing some rafting in the Costa Rican rivers are one top ten things to do in costa rica. The Ticos' team showed they knew the rivers, and they were able to take advantage of the "home field". They completed the journey in seven minutes and 18 seconds; that time was only beaten by the Czech Republic with six minutes and 45 seconds.
"This win is obviously more important than that of the Pan American Games because today we are going on a global podium," said the captain Carol Vargas.
The third place is in a known status right now as the team from Canada, and the team from New Zealand are still fighting on the table for it. Canada appealed the rule that gave New Zealand the third place at the end of the competition.
Keep in mind the costa rica adventure tours offered by many travel agents brings the tourist closer to these rivers and these extraordinary landscapes.
The International rafting organization is suffering from a few missteps as teams Slovakia, Slovenia, Russia and Germany all appealed several decisions at the end of Sunday's journey.
---
---
Leave a Comment