---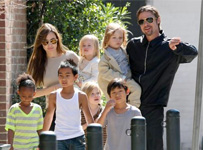 The famous Hollywood couple Brad Pitt and Agelina Jolie - who has six children - are planning to spend Christmas in Costa Rica but no with a vacation package. According to virtual edition of The Sun, the well-known actors could visit the country often to enjoy private Costa Rica family tours together with their children.
"Brad has found a large estate, and he thinks that it would be the perfect place for his family to escape for a while", said a source to The Sun. In accordance to the virtual publication, the actor will try to invest in real estate, in the country, and could be looking for some interesting Costa Rica property sales within a short time.
The Sun says that Pitt "loves the country, and he is considering to ??buy some properties in Costa Rica to spend some time there until his life becomes less frenetic", but it is not clear if the actor will prefer to buy a Costa Rica beachfront property, or any farm in the mountains, or to make some other kind of investments.
While Pitt waits the moment to invest, he wants to visit the country frequently to enjoy some travel vacations to know the natural wonders and advantages of this beautiful tourist destination in Central America. The Pitt´s could be planning their family travel in a few days to have a tropical Christmas time.
Meanwhile, Jolie, famous for her roles in several action and romantic movies, is considering to take a career break in a couple of years to focus on the growth of their children during adolescence, because she doesn´t want they have to fight as she had to do when she was younger.
"My kids (Maddox 10, Pax 8, Zahara 6, Shiloh 5, and three-year-old twins Knox and Vivienne) will need me a lot when they become teens. I know something about adolescence, and I need to spend time with six and be there when they need me. So, I'm sure I will work from home in one way or another. Maybe I will write, or something else", said the actress.
At present, they don't know when the actors will enjoy their family travel, or if they will rent a vacation home in Costa Rica or to stay at one of the beach luxury hotels or at some other tourist destination that the country offers.
---
---
Leave a Comment