---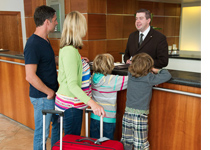 A new option for Costa Rica tourism will open from the second semester of 2012, in the Pacific coast. The Clarion Suites hotel will start receiving guests next year in Jaco area, one of the most popular destinations for vacation tours in the country. The project will have 150 rooms in two towers, one of 14 floors and other one of six.
The company has already completed the construction of two buildings, and in the next months it will complete the process of finishing them. The new project will offer great comforts and benefits to its customers. The Clarion will be one of the best hotels in Costa Rica, and it will be managed by Real Hotels and Resorts of Poma Group.
Besides, this new option for tourism will be the first in its kind between the Costa Rica vacations hotels. The initiative forms part of the Jacó Palms Resorts Complex, located in the central area of Jaco, and it is developed by the local company Pacific Sun Estates. The project construction requires $25 million dollar. At present, the investment has reached $15 million dollar.
The Clarion comes to fill a space because of the high demand of accommodation in Jaco. This important destination receives thousands of visitors each weekend. Travel agencies and Tours operators offer a wide variety of services to make the stay a great experience. Surf, adventure, and hiking tours are just a few options for tourists, who also can choose different activities from exciting vacations for singles to unforgettable family vacation packages.
According to Rodolfo Guillioli, the Corporative Manager of Planning and Development of Real Hotels and Resorts, "The hotel will have an area for special events, and two restaurants. In addition, it will have a casino, which doesn´t belongs to the Clarion, but will be located into the complex".
"One of our advantages is that there's so much demand in Jaco, and there are not enough hotel supply. Therefore, we believe that we came in good time", said Francisco Fonseca, the General Manager of Pacific Sun Estates.
---
---
Leave a Comment