---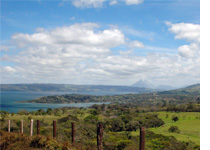 The most beautiful Costa Rica landscapes were the major attraction for the journalist and senior writer Richard Bangs, who is one of the most well-known travelers on TV and he came to the country to shot one of the famous adventure tours in costa rica.
Bangs came to Costa Rica last month to do a documentary of how Costa Rica manages to preserve and maintain the biodiversity. The production is called: Richard Bangs' Adventures with Purpose Costa Rica: Quest Pura Vida.
The documentary was shot in about 16 hours where he explored the costa rica travel conditions and he'll demonstrate everything in about one hour show that will air in over 650 channels in the US and Canada.
The journey took place in the pacific side of the country where he stayed in the best beach hotels in costa rica and ended up having a good time in Punta Islita, Parque Nacional Palo Verde and the Monteverde rain forest to then finished at the Parque Nacional Tortuguero.
The Bang's investigation gives Costa Rica a look of credit for having beaches and rain forests just hours away from each other, plus he was amazed with the mountains and the tropical jungle.
According to his quotes during the show, Bangs tell people he felt strangely comfortable in Costa Rica, something that he hasn't felt before in a long time on in any other place; and even says he now understands why Costa Rica is called one of the happiest places in the world.
The documentary where Bangs explores also the fun things to do in costa rica will air on September 14th in the USA and in Costa Rica will have a private show during the first days of the month.
Adventures with Purpose is a series of documentaries distributed by American Public Television to PBS stations in America.
---
---
Leave a Comment