---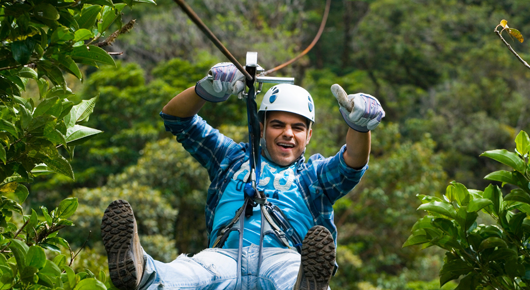 Costa Rica as a country is beautiful on every inch and the landscape they own allows the visitors to do so many different activities; and sports of course is one of the most attractive ones.
Many of the Costa Rica travel packages let you to choose between practicing an adventure sports or not; and to be fair many of tourists just can't pass up the opportunity to get into one and live to the fullest with the adrenaline max out.
In Costa Rica you can either do surf, canopy, snorkeling, kayaking, Jet Ski or even rafting, all these water sports are possible because of swell the Costa Rican beaches receive on a regular day basis.
Also if you don't enjoy water sports you will have several different activities to find yourself connected with the nature and the "daredevil" in you. For example you can try climbing; it's secure, it's different and it's really fun. Of course a specialist will teach you in a few classes whether you want to do climbing with ropes, vertical rescue or rapell down hill.
Another option is canopy as it let visitors to explore in a unique way the elevated ecology of the rain forest, plus you can take a good look at most of the plants and the enormous animal species the jungle has to offer.
Of course if you are into something more wildly, Costa Rica travel agents could hook up you up with some bungee jumping activities. You may think people might be crazy by doing this, but most of the tourist that have done it said it's the most liberating experience you can find out there.
The Costa Rican jungle, beaches or volcanoes are just simply out this world and if you want some serious vacation combined with sports; this is your place to be.
Leave a Comment