Costa Rica is the home of some of the best and most popular surfing destinations in the world. A lot of people visit this small country just to experience a specific wave such as Salsa Brava, the biggest break in Costa Rica.
Below there is a brief guide of those amazing spots that you need to visit in your next Costa Rica surfing holidays:
Surfing Spots in Guanacaste
Nearest international airport: Daniel Oduber Airport in Liberia, Guanacaste (Airport code: LIR)
Witch's Rock Beach
Distance from Liberia International Airport approx: 66.77 km, 41.49 mi
Witch's Rock is considered one of the best surf spots in Costa Rica. Only for advanced surfers due to the long waves and the windy conditions, Witch's Rock is a perfect destination for practicing surf all year around.
One of the most important things to take into account is that this beach is located within Santa Rosa National Park so there are no hotels or restaurants in the area. Most of the people go there only to spend the day since the only lodging option nearby is a camping area located 20km from the National Park entrance. 
Best time to visit Witch's Rock: From December to March.
Witch's Rock Surf Report
Tamarindo Beach
Distance from Liberia International Airport approx: 67.45 km, 41.91 mi
Tamarindo is one of the hottest surfing towns in Costa Rica and name by Forbes Magazine Costa Rica's Most Popular Beach. One of the main reasons why this beach is so popular is because it's perfect whether you are a beginner or an experienced surfer. Besides, it is also very popular because it's located nearby other amazing good spots for practicing surf such as Avellanas beach, Negra beach and even Witch's Rock.
Also, Tamarindo offers lodging options for all budgets and an amazing nightlife.
The best way to visit Tamarindo from San Jose is booking a local flight to Tamarindo's airstrip that will take only 45 minutes.
Tamarindo is a good surf spot all year round.
Tamarindo Beach Surf Report
Grande Beach
Distance from Liberia International Airport approx: 65.08 km, 40.44 mi
Grande beach offer excellent surfing conditions and attracts surfers from across the world. The same as Tamarindo, this beach is also a good spot for surfers of all skill levels, but it's not as developed as Tamarindo so there are fewer lodging options.
Best time to visit Grande Beach: From March to November.
Grande Beach Surf Report
Nosara Beach
Nosara is a long, dark beach; ideal for intermediate to experienced surfers. It's not as crowded as other Guanacaste beaches such as Tamarindo or Grande, but offers a variety of lodging options and delicious local restaurants. Named by the National Geographic in the top 20 Best Surf Towns in the World also Best Destination to Visit in Costa Rica by the New York Times.
The best way to visit Nosara from San Jose is booking a local flight to Nosara's airstrip that will take only 35 minutes.
Besides, there is also another popular white sand beach, perfect for beginners and advanced surfers, nearby Nosara: Guiones beach. Guiones is perfect for first-timers thanks to its uncrowded waters.
Nosara Beach Surf Report
Santa Teresa Beach
Santa Teresa is located in the Nicoya Peninsula and it's one of the most popular towns for surfers and yoga lovers. This town offers lodging options for everyone, no matter if you are looking for luxury boutique hotels or cheap surf camps.
The best way to get here from San Jose is booking a local flight to Tambor that will take only 25 minutes. Otherwise, you have to make a road trip of 5 hours or combine a road trip with a ferry.
Santa Teresa offers various reef breaks for practicing surf. Most of them are only for intermediate or pro surfers.
Santa Teresa Beach Surf Report
Surfing Spots in Central Pacific
Nearest international airport: SJO – Juan Santamaría airport
Jaco Beach
Jaco is the nearest surf spot from the capital city of San Jose, just 1 hour away driving. This is perfect for those who don't have a lot of time or those who want to combine destinations. This popular beach is also a town full of nightlife and a great place to learn how to surf.
It's important to take into account that Jaco is one of the most popular beaches for Costa Ricans, thanks to its proximity to the city. This means that the beach is quiet during the week but very busy during weekends.
Jaco offers plenty of lodging options for all budgets. From small hostels, surf camps to all-inclusive resorts.
Jaco is a good surf spot all year round.
Nearby Jaco it's located another popular surf spot named Hermosa Beach. This beach is located just 10 minutes away driving from Jaco but its currents are stronger. This means that Hermosa Beach is not recommended for swimming or first-timers surfers.
Some international surf championships take place in Jaco and Hermosa. In fact, the Quicksilver Surf Championship is hold in Hermosa Beach every year in August.
Best time to visit Hermosa Beach: From April to November.
| | |
| --- | --- |
| Jacó Beach Surf Report | Hermosa Beach Surf Report |
| | |
Surfing Spots in South Pacific
Nearest international airport: SJO – Juan Santamaría airport
Dominical Beach
Dominical is undoubtedly a must for surfers visiting Costa Rica as it has one of the most strong and fast waves in the country. Besides, as it's located not that far away, and has grown in the past years as a touristic destination, the town has a lot to offer for those looking to experience the surf culture of the country.
Dominical beach is a good spot for surfers of all skill levels and nearby this beach is located the Marino Ballena National Park, which is the best spot for whale watching expeditions.
Dominical Beach Surf Report
Pavones Beach
Pavones is a secluded beach located more than seven hours away from Juan Santamaria International airport. This location ensures privacy clear waters and beautiful sceneries, but also it makes unpredictable the surfing conditions. Some say that in a good day, Pavones is the best beach for in Costa Rica.
Pavones is one of the longest lefts in the world. Watch this video:
Best time to visit Pavones Beach: From April to November.
Pavones Beach Surf Report
Surfing Spots in the Caribbean
Nearest international airport: SJO – Juan Santamaría airport
Puerto Viejo Beach
Puerto Viejo is located in the Caribbean coast of Costa Rica. This means that everything is different here because in this part of the country, Costa Ricans live at their own tempo. Everything goes around beach and surf.
Puerto Viejo is a prime spot for surfers and if you are looking to catch the perfect wave in your next holidays, surely you have to visit this place. Here, the legendary surf break knows as Salsa Brava – or Angry Souce – is waiting for the experts. Salsa Brava is a multi-peak wave with a punchy left and a typically longer right, and it's considered the heaviest wave of the country.
Many competitions are held in Puerto Viejo also, thanks to the good conditions it offers.
Puerto Viejo Beach / Salsa Brava Surf Report
Costa Rica Surfing Forecast
Below you can check the weather, the swell size and the tides of the most popular surfing spots in Costa Rica:
General information Swell Sizes and Water Temperature:

Costa Rica Surf Camps
There are plenty of lodging options in Costa Rica for people looking a surfing adventure. From cheap hostels to all-inclusive resorts, it all depends on the budget. But there is an option perfect for those who want to experience the whole surfing culture of the country: the surf camps. Surf camps are located in the most popular Costa Rica surfing spots like Tamarindo and Jaco, and offer specific services such as equipment rental or surf lessons.
To find the best option for you, your family or your friends, it's important to take into account some matters such as your skill level, the waves quality and what are your expectations. You have to know what you want; you have to consider for example the distance to the beach, the facilities of the surf camp and the privacy you want.
Most of the surf camps in the country combine services and also offer Spanish lessons or yoga classes. This is also helpful if you are traveling with non-surfers that need something to do while you are on the beach.
Surf Lessons in Costa Rica
Costa Rica is world-known for its beaches, and even if you have never touched a surfboard before, there is a possibility for you to practice surf in one of the beautiful and pristine beaches of the country.
You can book a surf lesson for you or any member of your family in almost all Costa Rica beaches. The cost of this lesson will depend on if it's a regular or private lesson and the duration of the class. Also, the price will vary if you want a beginner lesson or a specific class to improve your surfing skills.
To experience a surf lesson you don't need to stay in a surf camp; some beach hotels or tour operators offer surf lessons for beginners and advanced surfers and they have all the equipment needed. You can book Tamarindo surf lessons or Jaco surf lessons even for children, so this can be a good option to include in a family vacation package.
Finding Costa Rica Surf Shops
If you are already a surf pro, you don't need to book a surf lesson. You will bring your own surfboard and spend all day long at the beach. However, sometimes it can be a little bit difficult to travel with a surfboard depending where are you coming from; or sometimes you will need to buy extra equipment here to complement yours.
As Costa Rica is a surfing paradise, there are plenty of surf shops across the country. Even in the city you can find big surf shops in case you want to buy clothing or equipment before going to the beach.
Also, you can find surf shops in the popular surf towns of the country. In Tamarindo, Jaco, Puerto Viejo and Santa Teresa for example, you will find surf shops where you can also rent surfboards. This is very useful if you don't want to bring your own board from home and you want to rent good equipment for several days.
To rent equipment in most of these places you just have to leave a credit card guarantee deposit that will vary depending on the board and the shop and present an ID.
Arenas Skate & Surf in Tamarindo, Neptuno Surf Shop also in Tamarindo Swells Surf Shop in Puerto Viejo and Mango Surf & Skate Shop in San José are some of the most popular ones. Of course, Travel Excellence can organize a visit to these or any other surf shop in the country in case you need a shopping tour during your surf vacations.
How Can I Combine Surf and Yoga in Costa Rica?
We know that yoga and surf are a perfect combination, and Costa Rica is a paradisiac place to practice both. Most of the boutique hotels located in surf towns also have yoga decks and offer daily complementary yoga classes for their guests. If you are interested in both disciplines, there are a lot of lodging options for you.
There are also surf and yoga retreats that combine the relaxing benefits of the yoga with the thrilling fun of surfing. In fact, Travel Excellence has created vacation packages combining yoga, surf, the best hotels and of course, the most attractive prices.
Some specific lodging options that combine yoga and surf experiences in Costa Rica are small boutique hotels such as L'Aqua Viva Resort and Spa in Nosara, Harmony Hotel also in Nosara, Flor Blanca in Santa Teresa and Pranamar Villas & Yoga retreat also in Santa Teresa.
Renting a Car for your Costa Rica Surfing Holidays
There are plenty of options to travel through Costa Rica: private transportation, shuttle buses, local buses, taxis, internal flights...there is something for everyone! But if you are visiting this country looking for a surf adventure, we think the best way to do it is renting a car because this way you will control your time and won't have to be worried about a schedule.
If it sounds good to you, here are some important regulations and recommendations to take into account before renting a car in Costa Rica.
First off, it's important to choose wisely the car you want to rent. The type and category will depend on your budget, of course, but most important on the places you are going to visit and the number of people traveling with you.
Most of the best surfing spots in Costa Rica, especially in Guanacaste, are located in towns where roads are not the best ones. Therefore, it's important to know well your itinerary and the beaches located near your hotel, this way you can know if you need a specific type of car.
Besides, if you are traveling solo, with your loved one or with a group of friends, this will affect the type of car you are going to need. It's important to take into account the number of bags too, because the idea is to travel safe and comfortable.
To rent a car in Costa Rica, the following conditions must be met:
The driver has to be older than 23 years. (The minimum age varies depending on the car rental company).
The driver must have a driver's license. A foreign driver's license will be valid in Costa Rica for 90 days.
The driver's identification document (passport) must be valid.  
A credit card with enough credit to cover the deductible of the insurance and the value of the rental must be presented as a guarantee deposit. (AMEX, VISA and MASTER CARD are accepted).
The use of safety belts, baby seats and boosters is mandatory according with Costa Rica's law.
Traveling with Surfboards in a Car
If needed, surfboard racks can be requested to the car rental company. With racks placed on the roof of the car, you can secure the surfboards better using rack pads and straps (take into account that these are not offered by the rental car company, so don't forget to bring yours or you will have to buy ones in a Costa Rica surf shop).
It's always a good idea to keep your surfboard in a boardbag too, to protect it against rocks or branches from the road.
See below an animated picture that shows the best way to secure the surfboard to the racks with tie down straps: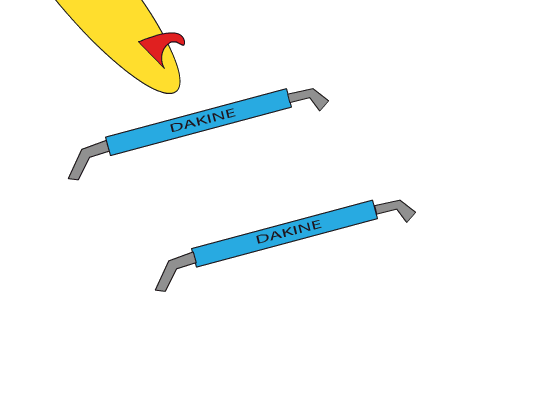 Flying with a Surfboard
If you want to take your own surfboard with you during your surf trip, it's very important to take precautions when packing it to ensure your board meets baggage specifications and take into account that you will have to pay a special fee to the airline. Airlines have service fees for surfboards because they require special handling. 
Since we cannot tell you how much you will pay because this depends on the airline, we are going to help you with some packing tips for taking your surfboard long distance:
Protect your fins: the fins are the most likely part of the board to get damaged so remove them if you can do it, wrap them in a towel and put them into the boardbag. And please, don't forget to pack your fin key!
For non-removable fins, the best way is to buy a fin protector that will cover and keep the fins safe.
Protect your surfboard: the best way to carry a surfboard is putting it into a hard boardbag case, and even better if it has wheels. You can bubble wrap some areas of the surfboard such as the nose and the tail, before putting the board into the case. Besides, for extra security, you can put some of your clothes as extra padding.
Write "Top Load" or "Fragile" on the bag with a marker or acrylic paint.
Traveling with a Surfboard in Costa Rica's Internal Flights
If you are planning a Costa Rica surf trip and you are taking your surfboard with you, it's important to know about the regulations of Costa Rica's domestic airlines in case you take a local flight during your travel:
Depending on the size, you will have to pay the cost of additional seats to transport the surfboard.
Long boards are not accepted at all, due to space restrictions.
The charge per surfboard will depend on the local airline.
Surfboards are not part of the baggage allowance and usually are considered subject to space. The local airlines will do their best to send your board on your flight but sometimes - due to space limitations - it will be delayed to the next available flight.
Damaged packing or surfboards will be not accepted.
Costa Rica Surf Packages
Travel Excellence has prepared some surf vacation packages including the best surf spots of the country. Of course, we can also help you with a personalized itinerary for your next surf adventure.
Costa Rica Best Surfing Spots Map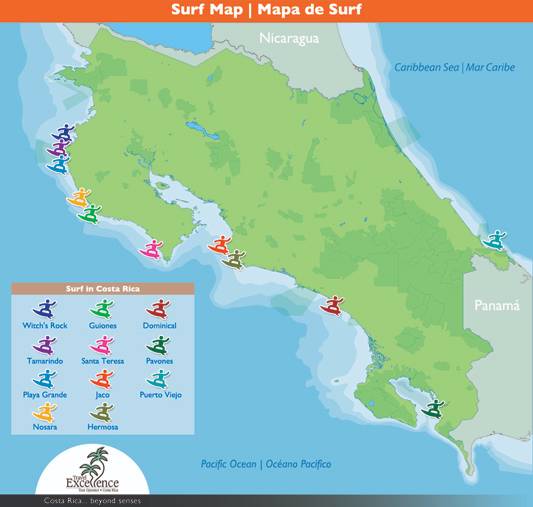 Costa Rica Surfing Videos
Los Boys Surfing Santa Teresa / Gallo Pinto TV from GalloPinto TV
Carlos Muñoz : Surfing El Caribe from GalloPinto TV
Anthony Fillingim & Adriano De Souza Surfing Central Pacific from GalloPinto TV