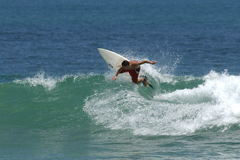 Surfers love Costa Rica! From anywhere in the country, the warm surf is only a few hours away. There are river-mouth breaks, beach breaks, reefs and, the experts say, one of the longest left hand curls in the world. Almost constant, manageable wave action means no long waits to hop on your board.
There are lodges catering to surfers, 4-wheel-drive vehicles to access the most remote beaches - even charter airplanes to accommodate your board.
No wonder the surf magazines are targeting Costa Rica as a world surfing hot spot.