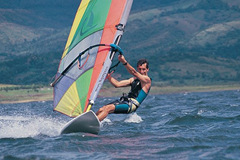 This world-class sport has not lost any of its impetus as it's grown in popularity. Those with a penchant for speed and water will not be disappointed when they take on winds of 30 to 45 miles per hour on Arenal Lake.
This man-made lake is found in the area of Tilarán. Framed by low green ridges, the blue lake is a Mecca for those with a need for speed.
Experienced local hotels and operators run their businesses on the lakeside and provide quality equipment as well as comfortable accommodations for those who don't want to be too far away from the action. Lodges are numerous and range in prices from moderate to expensive.
Taking to the lake is merely one option. You can also brave the ocean's waves while windsurfing and experience the salty winds at any of the beaches on either the Pacific or the Caribbean coast.