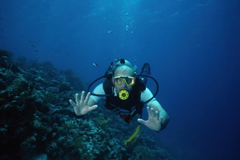 Imagine a place where the water is warm (75 to 85 degrees F) and the schools of fish are so thick they flow like rivers in the open sea. At almost every dive site there is a billowing cloud of 2,000 to 10,000 fish hanging above the reef.
The place is Costa Rica, where the unexpected is commonplace. Hazy shadows emerge from a blizzard of fish as divers are greeted by a giant Manta Ray, an elegant Eagle Ray or perhaps a Whale Shark. Big animal encounters are frequent and often occur near shore. Near Coco Island you will be able to observe schools of hammerhead sharks.
Nutrient rich waters are what attract all those fish. While some dive destinations offer high visibility and few fish, in Costa Rica you will find tons of fish and visibility in the 30 to 120 foot range. Costa Rica's abundant marine populations will astound even the most experienced divers.
The most popular diving sites are: Nicoya Peninsula, Osa Peninsula, Coco Island and the Caribbean coast.
Hold on to your regulators and be prepared for the greatest diving in the Northern Hemisphere!