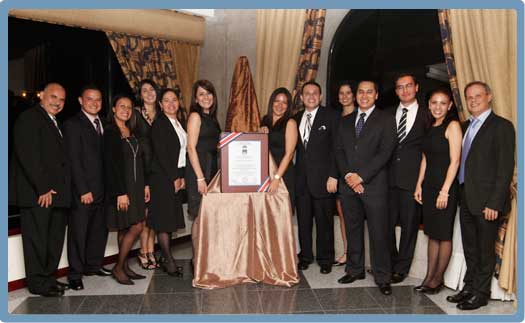 We are proud to announce that Travel Excellence S.A. became the first company in Central America to receive the Quality Management System ISO certificate that puts our corporation as number one in the costa rica tourism business.

The official act was presented last Monday August 8th at the Radisson Hotel in Costa Rica via Carlos Rodríguez, who is the executive director of the Institute of Technical Standards of Costa Rica (INTECO). The celebration had also the presence of the tourism minister, Allan Flores, the general manager Juan Carlos Borbon and the deputy manager and marketing manager Maria Amalia Revelo.

The certificate given by INTECO to Travel Excellence says they are worth of quality "Design, sale and receptive tourism services in the areas of individual, group and corporate Sales".

With this, our very own Travel Excellence became the first and only company with the Quality Management System ISO certificate in the tourism area in Costa Rica. Now with this achievement our clients either from the vacation tours in costa rica or the ones from the corporate market can feel secure and confident about working with a responsible organization that is known internationally by their quality services.

Every person that we take care of in Costa Rica will receive a certificated service given by a typical of a select group of top-level companies. Here in Travel Excellence we try to give our customers the best information about costa rica tour packages and the most fun costa rica travel tips; basically everything that you need to know when you visit the beautiful country of Costa Rica.

We give special thanks to the INTECO people and the Costa Rica Tourism Institute for joining us in the honor of our celebration act. This reward is not only because of our hard work but also it's a clear signal of progress and growth of the Costa Rican and Central America tourism industry.