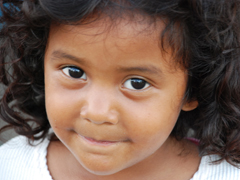 What makes "Ticos" (Costa Ricans) so different?
This is a common question. The answer lies in the country's history and culture. Costa Rica has a mostly peaceful past. From the very beginning, Costa Ricans have been exposed to little violence. During colonial times, it was one of the few parts of Latin America settled by people more interested in creating a pleasant place to live and start a family than in exploiting the indigenous people and their gold.

Most "ticos" are still as warm hearted and friendly as their ancestors. Hospitality, respect and friendship are enjoyed by visitors.

Where did the word "tico" come from?
Costa Ricans often use the diminutive form of words to be more courteous or friendly. They use, however, "ico", instead the more common "-ito". Although "-ico" is a correct form of the diminutive, it is rarely used in other Spanish speaking countries. The word "momento" (moment) thus become "momentico" (a little moment) and even "momentitico" (a very brief moment). Hence, people from other countries started calling Costa Ricans "ticos".