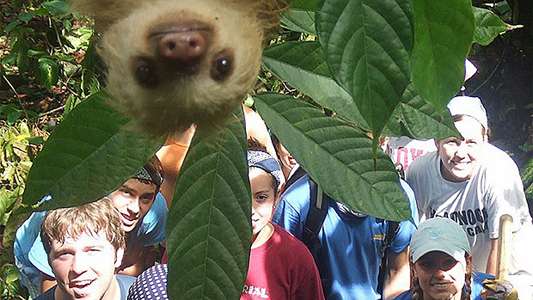 Costa rica travel adventure's made the news in a Canada Newspaper after a team of international student volunteers posed for a portrait at the end of their visit to Costa Rica and were joined by a surprise invader: a sloth, who photo-bombed the view at the last second.
Manuel Ramirez, 44, was the photographer in charge of getting the picture taken, but the sloth was faster than his finger, and it ended in a great portrait to share with the rest of the world.
"As I looked through the camera lens, I could see something creeping in to the frame," Britain's Telegraph news website quoted him as saying. "When I realized it was a baby sloth, I clicked the button as fast as I could — not that he was going anywhere fast."
The tree sloths prefer tropical forests at low elevations that have continuous canopy cover to live. Whenever you book costa rica package tours take in consideration that at Corcovado National Park, Santa Rosa National Park, Monteverde Cloud Forest Reserve you can find these beautiful species; you may also be found some in La Selva and San Vito.
The three-toed sloth eats large amounts of leaves from up to thirty species of trees, and sometimes lianas; watching them eat is a show most cheap costa rica travel guides love to show to the tourist; it's fascinating.
There is a baby sloth sanctuary near San Jose, in the tour you can be in a canoe ride through the Estrella River Delta and optional jungle walks. The sloths are one of the biggest costa rica attractions in terms of animal species you can see.