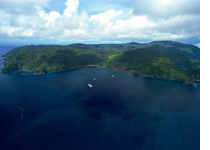 Cocos Island (Isla del Coco) has always been the center of fantastic stories about pirates and treasures, and a few expeditions have been made looking for the gold treasure that is rumored to be hidden somewhere in the Island. The National Park Rangers say that the true treasure is underwater.
The first submarine expeditions were led by Gustavo Rodríguez, back in 1905, using a helmet known as escafandra. After the invention on the Scuba system, in 1943, by Émile Gagnan and Jacques-Yves Cousteau, the Coco Island became one of the most important diving spots in the world. In the first quarter of 2012, the place was visited by 805 tourists, most of them attracted by diving in coral reefs crowded by fishes, sharks and invertebrates.
Since 2006, a mini submarine provides another chance to see the richness of the island, which has been declared Natural of Humanity. Called Deep Sea, the submarine can submerge down to 1400 feet for touristic and research purposes. Using a ship as operation platform, the submarine departs from Chatham Bay. Then, a smaller boat tows the submarine to the exact submersion spot.
The Deep Sea has an acrylic sphere of 20 inches girth, providing a view angle of 360 degrees, with a controlled environment. There's space for three people, including the pilot. The submarine descents at 40 feet per second. It is equipped with lights and a high definition video camera; it is very quiet and doesn't scare the sharks or other marine wildlife. Banks of white sharks and many species of sharks can be seen there.
After 150 feet, the water is very cold because that is the transition area between the warm and cold waters, at certain places; there is black coral reef, which is rare, having its base between 225 and 300 feet below the surface.
Going back to the surface takes just a few minutes, and after that, it will remain on top of the water for a few minutes while it is picked up by the boat. During those minutes, the view of the Island is amazing.
Here a short Film about the Cocos Island Experience.