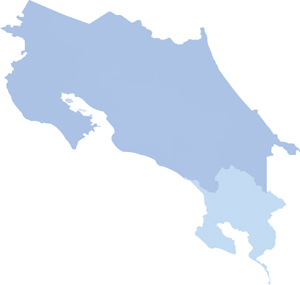 Considered one the most virgin regions of the country, the south Pacific encompasses one of the areas of major biodiversity in Costa Rica, the Corcovado National Park. Nature in its maximum expression… alive, exuberant, greened in every detail of the jungle growth. This, and more, is offered in the region that extends from the Barú River to the Panamanian border, and from the Talamanca mountain range to the Pacific coast.
In this territory there are lagoons, mangroves, rivers, rain forests, lowland cloud forests, and 46 kilometers of sandy coastline. The south Pacific zone is rich in flora and fauna, and its environment serves as a refuge to animals in danger of extinction such as the tapir, panther, and scarlet macaw. The forests are tall and dense. <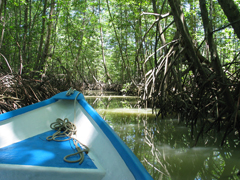 In the Corcovado area 500 species of trees, 140 of mammals, 367 of birds, 40 of fresh water fish, 117 of amphibians and reptiles have been identified, and it is estimated that some 6,000 species of insects are to be found. The climate is humid and hot on the coast, plains and in the valleys. In the highlands predominates cool weather due more to the cloudiness than the altitude. The torrential rains fall mainly from mid April to December and there is a brief dry season from February till the first week of April.
From San José it will take approximately eight hours by land to get to the region: the best and fastest way to get to the southern Pacific is taking a local flight from San José and landing in Palmar Sur or Puerto Jiménez. Here you will be able to dive and fish. The majority of the hotels located in this area offer packages for several days which include local flights from and to San José, transport, lodging, all meals, and tours.