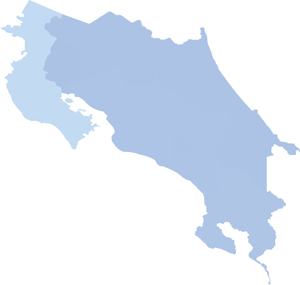 The province of Guanacaste encompasses dry, wet and very humid forests, including the protected areas of the few remnants of the tropical dry forests which once extended from Mexico along all the Pacific coast, and which today has practically disappeared from the Mesoamerican scenery.
The region of the north Pacific is a land of beautiful landscapes made up of bays, gulfs, hills splattered with forests and cliffs, panoramic routes, volcanoes, wild rivers, beautiful beaches of gray, fine dark, white and golden sands bathed by a blue sea of clear waters, rich in fishes and seashore birds, with mainly of gentle waves.
The climate is very hot and dry during the summer, which tends to extend from December to April, and hot and humid during the rest of the year. The average annual temperature is 27,5ºC. Guanacaste is blessed with landscapes of plains and dusty dry coast from January to April and very green and wet during the rainy season.
In this idyllic region the positive energy of the radiant sun, which shines long hours of the day, combines with the hot temperatures, inviting you to enjoy the warm waters and the blue sea. Visit the national parks while on the beach!