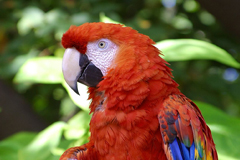 If one examines the different ecosystems that exist in Costa Rica, it becomes apparent that it is one of the biologically wealthiest nations in the world. From the forested slopes of its volcanoes to the coral reefs off both coasts, Costa Rica possesses an almost unfathomable diversity of flora and fauna.
During the last few decades, more and more Costa Ricans have come to realize what an important part of their national heritage that biodiversity is. They have consequently created an exemplary National Conservation System to ensure the survival of endangered species, and a National Biodiversity Institute to catalogue and study the country's flora and fauna.
The greatest manifestation of Costa Rica's natural heritage is the diversity of its flora and fauna. About 9,000 different kinds of flowering plants grow in the country, including more than 1,300 species of orchids. Nearly 870 species of birds have been identified, which is more than are found in all of the United States, Canada, and the northern half of Mexico combined.
The country is also home for 209 species of mammals, 383 kinds of reptiles and amphibians, about 2,000 species of butterflies, and at least 4,500 different types of moths. Though Costa Rica covers only a 0.3% of the surface of the Earth, about 5% of the planet's plant and animal species are found there.