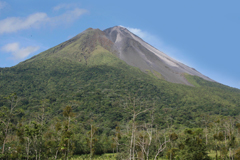 Costa Rica's nine active volcanoes vividly remind visitors of the awesome power contained by the earth's thin mantle. At Irazú Volcano it is easy to see why Neil Armstrong said that its desolate landscape looks like the surface of the moon. Anyone peering into Poás mammoth crater, with its boiling, sulfurous lake, is reminded just how tenuous is man's supposed dominion over the world.
Arenal, most active and no doubt the most studied of all Costa Rica's volcanoes, booms and rumbles with an unnerving consistency, and its nocturnal pyrotechnics have struck awe in the hearts of thousands of observers. On the lower slopes of Rincón de la Vieja the power is vented in boiling mud pots, hissing fumaroles, and thermal streams.
The non-volcanic Talamanca Mountains are ruggedly beautiful and contain two of the nation's tallest peaks. The Inter-American highway, crossing the 11,453 ft. (3.491 m.) Cerro de la Muerte, reaches over 9,843 feet (3.000 m.) passing through highland forests of Costa Rican Oak and the only road-accessible "páramo" vegetation in the country. To see evidence of the glacier that topped 12,533 ft. (3,820 m.) Chirripó during the last ice age requires a 9-hour hike and cold weather camping; but it's definitely worth the effort.